A Personal Project: Gertie
Some product links are affiliate links but all are where I make my gear purchases. You can also find all of my photography gear recommendations here.
So far in 2017, I've taken about 20,000 photos. This is typical. I'm proud of many of the photos I've taken and the work I've put in to become a consistent, professional photographer. Yet, I realized at the beginning of this year that though I create and share a lot of work, it's often not reflective of me or my life. That's somewhat purposeful, it's much easier to hear and take criticism on images that I have some degree of emotional separation from.
Many of the photographers that I admire use their lives and perspective as a jumping off point for their work. It all ties back together. So at the start of this year, I decided to slowly ease my way into more personal projects.
I have wanted a dog most of my life. I'm like the 9 year old begging for a puppy that never moved on from that phase. This winter, after a lot of pleading and harassing, I finally convinced my husband, Eli, to agree to a dog and so Gertie came into our lives. Or more like, she was the most pitiful looking pup at our local shelter and since I'm a total sucker for an underdog, I brought Gertie into our lives.
Early on, Gertie was very tentative about the camera. She had a difficult case of kennel cough when we brought her home and I didn't want to agitate her. She refused to look my way when I had the camera out.
Slowly, her confidence grew. She stopped looking away. The camera became another part of life with us.
Initially, I had some worries that Gertie would torment our cats. Within about 3 weeks, they all easily co-existed. There were occasional miscommunications (like when Gertie tried to sniff Nugget's butt) but no major dramas.
One of the best things about adopting a pet is slowly discovering their personality. Initially, it felt as if Gertie was waiting for someone to come pick her up. She was cautious. Then, her kennel cough healed. We started to trust her around the cats and slowly gave her autonomy around the house. We gave up on the "no dogs on the couch" rule and the full extent of her silliness started to shine through.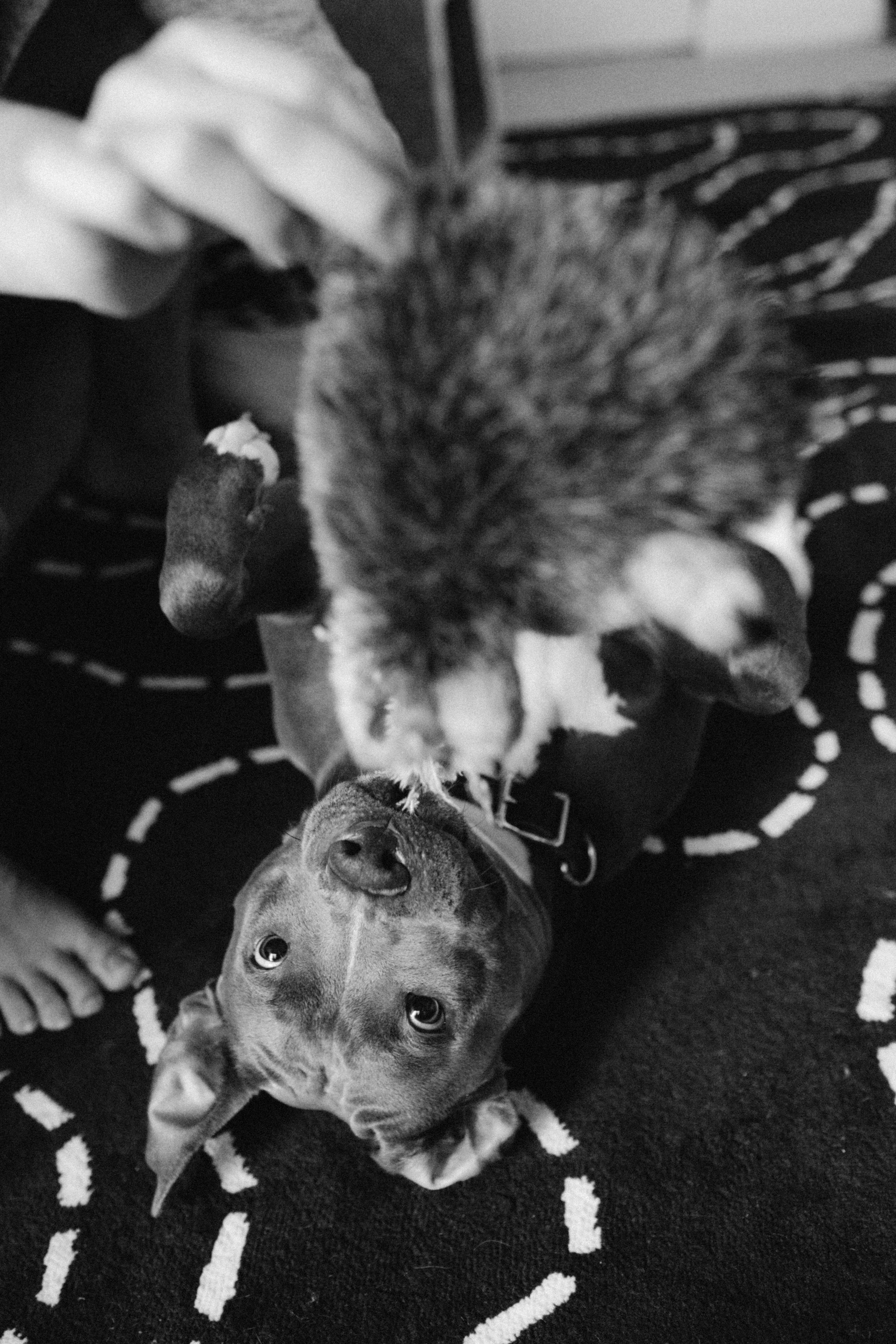 Eli and I travel a lot. When we got Gertie, we put trips on pause. Eventually, we went out of town for a week and when we came back something shifted. Gertie suddenly seemed to trust us a lot more. She became more communicative and more attached. Our trainer and dog sitter, Hope, described her as loving as "butter". It sounded strange but in the evenings Gertie started to lay on Eli a lot and simply seemed to melt.
I've gone back and forth a lot on whether these photos were worth sharing. They mean so much to me but I've been less clear on their overall value. Then this week, I became outraged and exasperated by the Guggenheim Museum's decision to air footage of pitbulls being provoked and aggravated for the sake of art (they eventually decided to pull the piece).
Eli and I don't really know Gertie's history. The shelter told us she was dropped off by a family with two kids and three dogs and one of the kids developed allergies. We're not sure if that's true or not. One thing, we do know is that Gertie had considerable anxiety around other dogs when we first got her. The first few times we took her for a walk, we were surprised as she got worked up into a state of hyperventilating, barking and growling panic. It took diligent training and a lot of time to build up her confidence but still, she's wary of certain types of dogs.
I believe, perhaps with excessive optimism, that art should be used to build empathy or to highlight unfairness and injustice without causing more harm. Gertie is more than a placeholder for some abstract idea and more than a pitbull. So I wanted to show how Gertie has slowly become a part of our family.
Same same but different posts